Calancombe Estate, part of the English Wine revolution
England is becoming recognised around the world as a place that produces superb, distinctive wines. This is a remarkable transition from twenty or so years ago when a relatively small number of pioneering producers were struggling for recognition.

At the forefront of the English winemaking revolution are self-confident and ambitious winemakers like the Calancombe Estate near Modbury in Devon. Owned by Caroline and Lance Whitehead and with 23 acres under vine it's among the larger estates in England.

The first vines were planted in 2012. These take full advantage of south-facing slopes, free-draining soil and a unique microclimate. The estate has beautiful far reaching views stretching out to Dartmoor and the Devon coast. Harvesting and processing grapes began in 2017 and the first wines were released in 2019.

Calancombe's stated aim is to: 'produce the finest quality sparkling and still white, red and rosé wines, from grapes grown exclusively on our Estate and produced in our purpose built winery.' They are firmly established on the road to realising this vision.

Head winemaker and vineyard manager Olly Shaw previously worked in France and New Zealand. Here he acquired skills and knowledge about the art of viticulture that he continues to hone.
"We do a lot of maceration as they do in New Zealand to enhance the fruit characteristics of our wines, but we're also drawn to the community-style wine making that they have in France."

Olly sees sustainability as part of the appeal of locally produced wines.
"People love to visit us and pick up a bottle or two of something delicious. A great product they know has been grown and produced here and is supporting the local economy. We aim to be as self-contained as possible and do all of our own bottling and labelling, for example."
At Calancombe they also minimise the use of additions to the wines , preferring to rely on strict quality control and selection of the grapes that make it into the winemaking process. Nothing with a hint of rot ever gets past the sorting table. With control over both vineyard management and wine production, Olly can oversee the strict control from grape to bottle needed to deliver consistently high quality wines.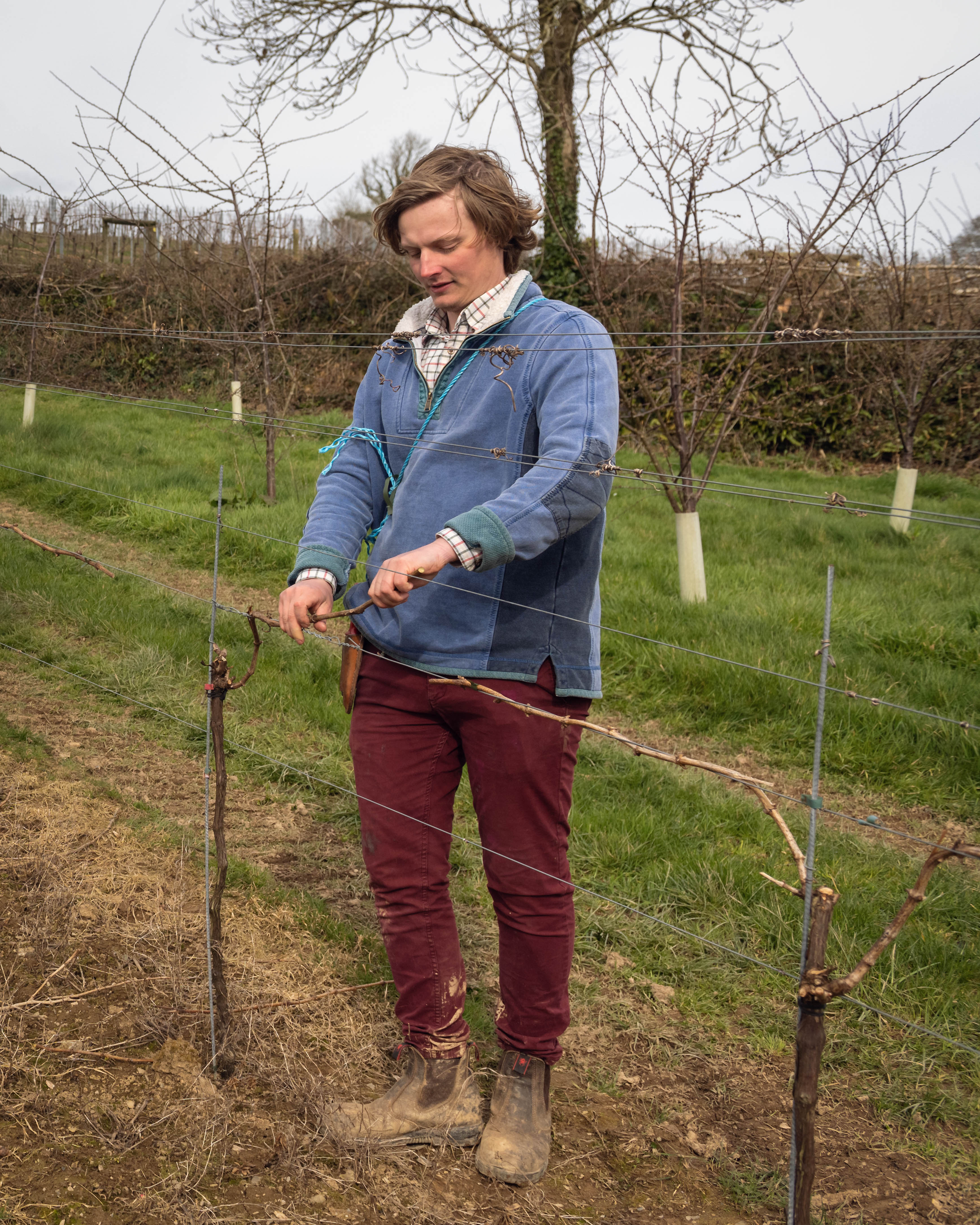 Image courtesy of Chris Iversen
Soils and Character


The interesting range of soil types is used to great effect to get the best out of each variety they grow.

"Lower down, our soils are clay and nutrient rich with a slatey layer beneath. This is where we grow the Pinot Noir that goes into our distinctive Blanc de Noirs and Pinot Noir Rosé. Higher up the slopes the soil is flinty, which imparts a fresh mineral character to our white wines that really comes through in our Bacchus, for example."

Other varieties cultivated include Madeleine Angevine, Ortega, Pinot Gris and Chardonnay. As well as the classic Pinot Noir they also cultivate the earlier ripening Pinot Noir Precoce. The Ortega production is just starting to come on line and the estate plans to treat it like an oaked Chardonnay. That will certainly be worth a try!

Despite the youth of the vines, Calancombe is already producing wines with impressive complexity and subtlety that fully justify the price tag. Olly is excited about what this means for the future.
"The vines are starting to produce a lot of fruit so we will start to crop thin. They will also slow down a bit in a few years. All of this will enhance the fruit and body."

The exciting future for winemaking in this corner of Devon will include a red Pinot Noir, which the estate is already experimenting with.
"It needs a lot of care over what we put in, along with plenty of maceration and oaking, but the result is something we'll be proud to put our label on."

Olly can see a time in the not too distant future when England is recognised internationally as a major producer of consistently excellent wines.
"We have to stay obsessed with quality and make sure we plant varieties that will do best in each location. This means that wines from different counties will become markedly different. That can only be a good thing."

The team at Calancombe want to be an integral part of the developing English wine scene, both by continuing to produce high quality wines and by helping newer producers to become established and make informed decisions about what to plant where. And the team's passion doesn't stop at wine. They make a delicious cassis from blackcurrants grown on the Estate, along with still and sparkling cyder. They are also experimenting with a rhubarb liqueur.

If the standard of wines Calancombe is producing after just a few years is any indication, the future for English wine looks very bright indeed. Shop our full range of Calancombe Estate wines.