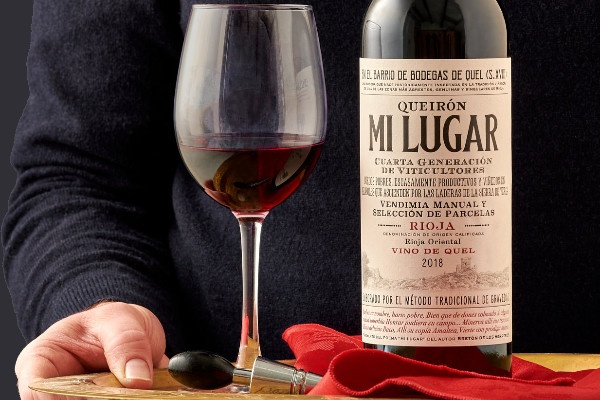 With October being Rioja Wine Month I thought I woul
d revisit this extraordinary wine region with a few words of history and certainly a few recommendations.
Where is Rioja?
Easily found by hopping on the excellent Brittany Ferries to Santander. Upon disembarking the ferry head east to Bilbao. From here head due south toward La Rioja, the smallest autonomous region in Spain.
This is a unique wine region with over 500 bodegas crafting their famous beverage. The main harvest is for red grapes – Tempranillo, Garnacha, Graciano, Mazuel – used to elaborate many different styles of Rioja wine.
Joven – Young with no oak
Crianza – Wines need to be in wood and bottle for a minimum of 24 months.
Reserva – Wines need to be in wood and bottle for a minimum of 36 months
Gran Reserva – Wines need to be in wood and bottle for a minimum of 72 months
Vinedos Singular – site specific vineyards including tighter vinification rules.
Many of these will be familiar to lovers of Rioja but a closer look might offer a few interesting facts enabling the wine hunter info on what to purchase.
Joven is probably the most sipped style of Rioja Tinto (Red) but not so well-known in the UK. This juicy style of Tinto is all over Spanish Tapas bars, often served straight from the refrigerator! After all its simplicity of fruit and youthfulness is perfect at this temperature in a hot country!

Rioja Blanco has also come of age with availability nationwide – styles and grapes are enabling subtle nuances to be apparent as we embrace this versatile style.

Crianza, Reserva and Gran Reserva have been with us for many years, with aging and price points commensurate with their differences.

I recently tasted five styles of Rioja that are readily available for current sipping or to keep for a celebration of special supper.
Bodegas Taron Blanco 2021
(£9.99 Any 6 Mix)


Made from Viura and Tempranillo Blanco this is a thoroughly modern white with hints of apple, spice and citrus. No oak was used for this deliciously modern wine.
Altos de Bergas Tempranillo Joven Rioja 2021
(£8.33 Any 6 Mix)

Noting the youthful vintage, this is an opportunity to purchase the juicy young style (try chilling a tad?) rich in red fruits and spice, it demands casual Tapas
Hacienda de Ternero Seleccion Crianza Rioja 2014
(£17.99 Any 6 Mix)

A star wine! With so much time in bottle (after 12 months in oak) something rather special has happened! It has become a deep-scented Tinto of great note. In short it being a 'Seleccion' has encouraged the Bodega to keep it for six years more allowing it to become dense and full-on! Rare and moreish, a must for Game dishes this autumn and winter.
Gómez Cruzado Reserva Rioja 2014
(£22.50 Any 6 Mix)
From 30 year old vines in choice vineyards. Traditional winemaking of 18 months in French and American oak followed by a minimum of 2 years in bottle has created this top-drawer Reserva. With another 5 years in bottle it has become rather adult! Plenty of youthful tannins with underlying black fruit have created a beauty. Decant and serve with your favourite Game of Beef dish!
Señorío de La Eralta Gran Reserva 2016
(£13.95 Any 6 Mix)

Note the price! This is a rare and modern Gran Reserva showing a plethora of red fruits followed by ripe black fruits and a charming spirituous note indicating its aging process has offered a developed nose and taste. Top sipper, great value. Decant.