Your first sip of a red Rioja - particularly an aged one - can be something of a jolt to the tastebuds. There's clearly something different and interesting going on. For many of us that first sip was the start of a lifelong love affair with one of Europe's most historic andinteresting wine making regions.
So join me on a voyage through the world of Rioja. We'll be concentrating mainly on the reds that make up the majority of the area's output. But let's not forget that it's also home to some excellent white, rosé and sparkling wines.
Where Does Rioja Come From?
Before we get to the where, we should probably cover the mildly tricky issue of how you pronounce it. Put a strong emphasis on the 'o' sound and replace the 'ja' with a hardish 'ha' sound at the back of your throat and you should be understood just fine. We don't have a fully equivalent sound in English as far as I can tell.
The wines come from northern central Spain, specifically the bordering autonomous communes of La Rioja, Navarre and Alava, which is in the Basque Region. Across these territories there are over 65,000 hectares of vineyards. Nearly 70% of the vines are south of the River Ebro in La Rioja.
Almost all Rioja wines are blends, usually from grapes grown across the region. Estate bottling is still a rarity although becoming more popular for reasons I'll explain in a while.
What Grapes Are Used In Rioja Wines?
For red Riojas the overwhelming variety is Tempranillo. This is the base variety that gives the wines their distinctive characteristics. Garnacha, Mazuelo (also known as Cariñena or Carignan) and Graciano are also typically used.
White Rioja wines must contain at least 51% of the native Viura grape. Malvasía de Rioja, Garnacha Blanca, Tempranillo Blanco, Maturana Blanca and Turruntés de Rioja tend to make up the rest of the blend with, occasionally, Chardonnay, Sauvignon Blanc and Verdejo. Rioja rosé wines are made mostly from the fruity Garnacha grape.
What Does Rioja Taste Like?
There's a misconception that Riojas are always rich and heavily oaked. Actually, they are way more varied than that. The characteristics depend on the sub-region, the ageing process and how the winemaker uses their skill to nurture and 'elaborate' the wine. For people who enjoy Cabernet but are also looking for elements of fruit that you get from Pinot Noir, Rioja would be an excellent choice.
In winemaking terms there are three sub-regions generally running from west to east: Alta, Alavesa and Oriental (or Baja). Alta vineyards are at higher altitudes where the shorter growing season delivers plenty of rich fruity notes.
The Alta region is centred on the town of Haro. Many believe that this is where some of the best wines come from. Soil types are diverse, mostly limestone and clay, and in some places rich in iron or full of pebbles. For the wine lover this means there's plenty of diversity and interest. The new classification system that we'll cover later on is really helpful when it comes to finding wines from a specific commune or producer that suit your palate.
Alavesa wines tend to be fuller bodied and more acidic thanks to the chalky clay soils and steeply sloped vineyards.
The town of Logrono more or less marks the border between Rioja Alta and Rioja Oriental. Oriental or Baja wines grown in rich, silty alluvial soils are often deeply coloured and highly alcoholic (which is why they are often used for blending).
Rioja wines carry the Denominación de Origen Calificada (D.O.Ca) designation. This is the highest category in Spanish wine regulation. This is an important feature of how the wines maintain their distinctive character and appeal. The classification lays down strict rules for the grape varieties that are allowed - and in what proportions - for red, white and rosé wines.
And let's not forget the whites. Young white Rioja wines are zingy and citrusy while aged ones develop creamy and buttery notes.
What Do Age Classifications Of Rioja Mean?
Three typical age classifications have been in use for Rioja wines for over a century. As well as the basic Generico or 'Joven' wines that are normally fruity, fresh and intended to be drunk when young there are the following: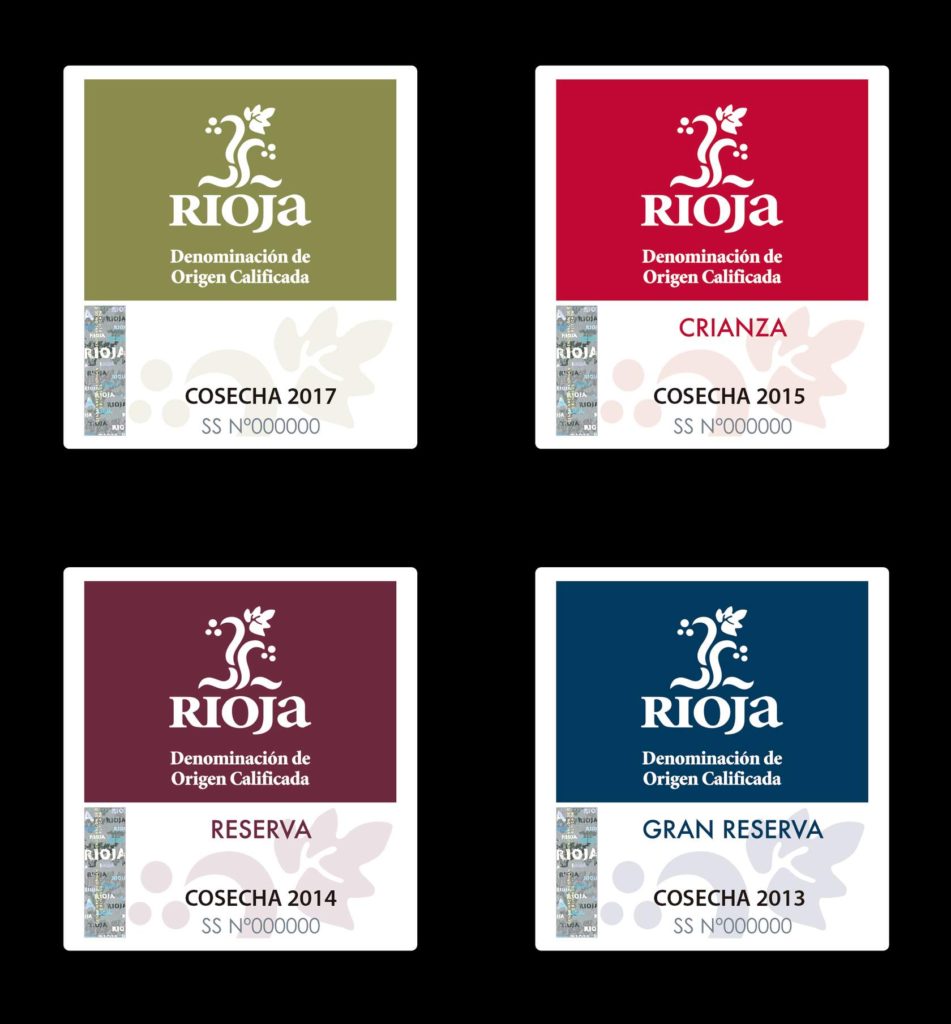 ●Crianza - aged for 2 years with one year in oak barrels (six months in the case of white and rose).
●Reserva - 3 years ageing with at least 1 year in barrels and 6 months in bottles (2 years and 6 months in barrels for white/rose.)
●Gran Reserva - aged at least 5 years with 2 years in barrels and 2 in bottles (white and rose must have 6 months in barrels).
As you'd expect, the higher the age classification the more complex and expensive the wine becomes thanks to time spent in (usually) American oak barrels, which imparts the characteristic vanilla notes. That said, there are many excellent wines classified as Crianza that represent superb value. They are usually fuller bodied than Generico wines. Hints of leather accompany the red and black fruit notes.
With greater ageing - as with Reserva wines - notes of dried fruit and tobacco start to develop and the vanilla tones intensify. Gran Reserva wines make up only about 2% of the production. They are made from selected grapes from the oldest vineyards.
Gran Añada sparkling wines must be aged for at least 3 years on the 'lees' (the sediment left from the fermentation process) while Reserva sparkling wines need 2 years on the lees.
Another point worth noting is that the Joven classification can be misleading. Many of these wines are, indeed, young. But sometimes it's a case of winemakers choosing to do things their own way and to produce and age wines that don't fit neatly into the recognised classifications. Some of these opt for longer and slower fermentation and shorter ageing in French rather than American oak.
As a niche wine retailer we are inclined to applaud producers with an independent spirit who choose to forgo the marketing advantages of recognised terminology.
Rioja Characteristics and Age Classifications
First off, apologies: this is going to be unavoidably generalised. So take what I say here as a guide and try the wines for yourself to see what you prefer (we have some excellent choices available through the Wickham website).
Crianza wines are aged enough to develop complexity and depth with plenty of ripe fruit and spice. But they retain enough youthful vigour to suit a wide range of foods and occasions.
Reserva wines have a great balance between fruit, acidity and tannins. They can really pack a flavoursome punch.
Gran Reserva, as you might expect, takes the complexity level up a notch. For some people these will seem over-oaky and for others they will represent everything they love about a great red Rioja. Expect plenty of fruit, oak, spice, vanilla, tobacco and a long finish.
A Brief History Of Wine Making In La Rioja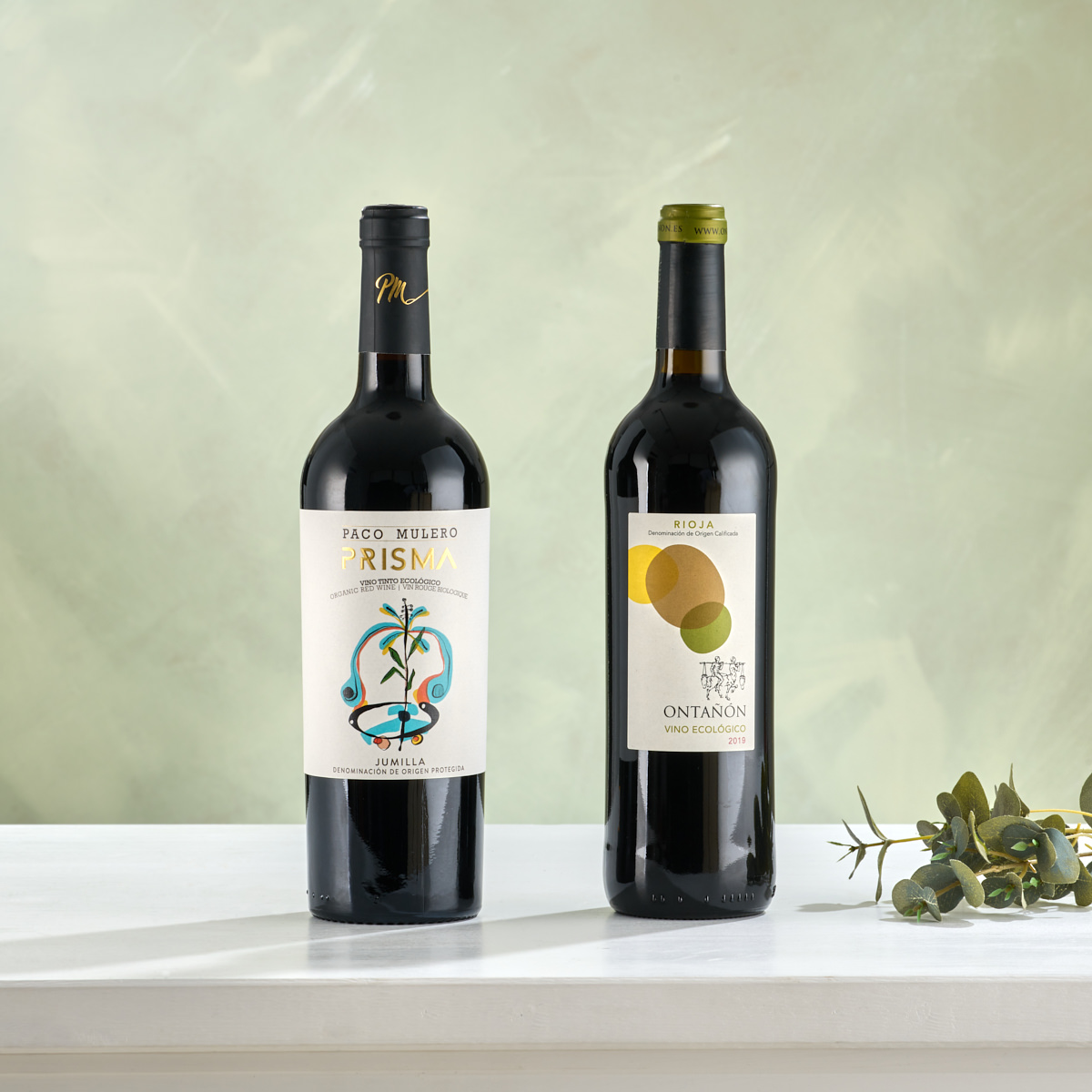 There's archaeological evidence that Pheonician settlers in the 11th Century BC were making wine. From the 2nd Century BC the Romans planted new vineyards, partly to supply the Roman legions. A cistern has been uncovered from this time that could hold 75,000 litres of wine - literally enough to supply an army.
The fame of wines from the region spread in the Middle Ages as pilgrims en-route to Santiago de Compostela reported back on what they'd tasted as they passed through. Rioja Alta became a specialist wine making area from the 15th Century, even though the wines probably bore little resemblance to those we enjoy today.
Rioja wine merchants began to export wines through Bilbao and Santander to English and Dutch wine merchants. The growing trade led to the first safeguards to protect the quality and reputation of the wine. In 1560 grapes from outside the Rioja region were prohibited and wine had to be transported in bota bags, branded with a seal to guarantee the authenticity of their contents.
As phylloxera ravaged the vineyards of western France in the mid 19th Century the search was on for Bordeaux-style wines from elsewhere. This was when local producers learned the art of ageing wines in oak barrels from the winemakers of Bordeaux. And there are still similarities between an aged Rioja and, say, a mature St Emilion.
The region enjoyed a boom period in the mid 19th Century as powdery mildew infected the rival vines in nearby Galicia. This continued until phylloxera finally caught up and blighted the area in the 1890s. As elsewhere, the remedy was to graft vines onto wild American rootstock. Even so, it took years for production to recover.
The fame of Rioja wines grew in the early 20th Century. Unfortunately, widespread hunger caused by two World Wars and the Spanish Civil War led to vines being forcibly uprooted to make way for wheat and other crops.
From the 1960s many vineyards were replanted. The outstanding 1970 vintage kick-started additional demand; only to be followed, as is often the case, by overproduction and falling standards.
Regulation over grape selection and production methods has improved the quality and consistency markedly. Winestoday follow longer maceration periods to extract more tannins and produce wines with deeper aromas and more concentrated flavours. The current popularity and quality of Rioja is the result of a lot of hard work and investment over recent decades.
Recent years have also seen changes to the characteristics of typical Rioja wines. Heavy oaking is less common and wines have become younger, more deeply coloured and more powerful. These changes led to increased popularity. In 1991, Rioja was the first region to be awarded Denominación de Origen Calificada status.
The New Rioja Classification System
A few years ago the classification system for Rioja was given a bit of a shake up. The three official zones - Rioja Alta, Rioja Alavesa and Rioja Oriental (Baja)- can now be used for labelling wines. A wine labelled 'Rioja' will probably be a blend of wines from across the region - which isn't necessarily a bad thing.
The ageing classifications of Generic, Crianza, Reserva and Gran Reserva are retained along with the new Añada classification for sparkling wines.
The fun part for wine lovers and producers is that individual zones, villages and wine makers can add their names to the label. The wine-hunting experience is becoming a little more like Bordeaux but with less complexity. It can only be a good thing if individual producers are encouraged to make the most of local soil and climatic conditions and to experiment a bit. This will surely make life - and the wines - more interesting.
Vineyards have to apply to be allowed to use 'Viñedo Singular' classification. The development of more single vineyard wines (something that was rare in Rioja) is really exciting.
The changes are increasing the diversity of styles from the 'international' designed for more universal appeal to the deeply traditional rich and silky oak-aged styles.
What Foods Go Well With Rioja?
Rioja goes well with just about anything. Younger Generico or Joven wines go well with savoury meats and strong cheeses. There's not much they don't go with to be honest but they might get overpowered by anything too hearty. Try it with a curry if you want a more interesting accompaniment than cold lager. Needless to say, any tapas style dishes will fit the bill perfectly. Remember too what I said about not all of these wines being as young and uncomplex as they might sound.
Crianza wines go well with roast chicken and would be a good pairing with the Christmas turkey. For roasted red meats such as a rack of lamb you might want to step up to a Reserva (although a good Crianza will more than hold its own). Hearty stews and game combine perfectly with a Gran Reserva if you want to push the boat out.
Any regional specialities will add to the experience, including jamon, Manchego cheese, or a bowl of olives.
When it comes to whites I would pair younger wines with scallops or squid, and aged ones with paella or richer fish-based dishes.
All of this, of course, is just my opinion. If a particular food and Rioja combo makes you happy then go for it.
Happy Drinking
Dan