Join me as I explore a fascinating young grape variety. A variety with a burgeoning reputation amongst English wine enthusiasts. A variety named after no lesser figure than the God of Wine himself.
May I introduce Bacchus.
The God
When hosting a wine tasting it is not uncommon for the names Bacchus and Dionysus to crop up. Tasters note that one, or both, was the God of Wine.
To explain, we'll take a brief detour into mythology...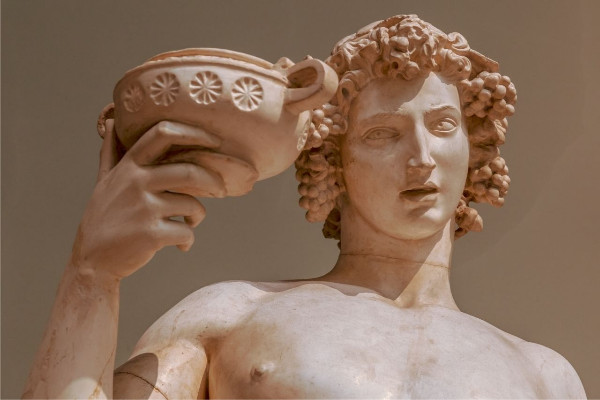 A statue of Dionysus, the God of Wine
Dionysus or Bacchus?
Mentions of the god Dionysus date as far back as 1300BCE.
His mortal mother, Semele, was murdered during childbirth by his father Zeus.
Death by thunderbolt.
Zeus "rescued" Dionysus from Semele's womb and sewed his unborn child into his thigh, from whence he was born some days later. Zeus entrusted Dionysus upbringing to nymphs on Mount Nysa. There he grew up learning the secrets of winemaking.
Not content being merely the God of Wine, he enjoyed strong associations with weddings, sacrifices, sexuality, and the theatre. If we ignore the inconvenient bit about sacrifices, Dionysus embodies enjoyment and good living.
It was from the ancient connections between Greek and Roman civilisation that the name Bacchus appeared. The Romans took many of the Greek rituals and made them their own. In this way Bacchus became the Roman God of Wine.
Myths and stories abound about both the Roman and Greek God, indeed, the word bacchanalia, meaning excessive fun, remains part our modern lexicon.
So, it is fitting that a youthful grape has been adorned with the name.
The Grape
The variety first appeared in 1933. Created by Peter Morio and Bernhard Husfeld in the laboratories of the Geilweilerhof Institute when they crossed Sylvaner x Riesling with Müller-Thurgau.
Their aim was to create an early ripening variety with a plentiful bouquet and high sugar content. A combination which would hopefully prove popular in the vineyards of southern Germany.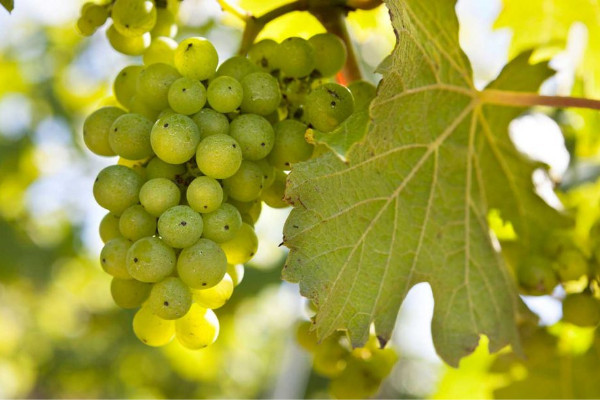 Grapes on the Vine
With typical German imagination Morio and Husfeld named this hybrid Geilweilerhof 32-29-133.
For the next forty years Gf 32-29-133 (for short) waited in the wings. Then in 1972, having adopted the more romantic sobriquet Bacchus, the German authorities approved it for general cultivation.
Bacchus was born.
(Or in keeping with the mythology, maybe that should be reborn.)
High yields, disease resistance and general good nature made it an instant hit with German winegrowers. Many realised blending it with Müller-Thurgau would improve the flavour of the latter. However, unrestrained its aromatic potential becomes overbearing, which may explain its short-lived popularity.
Its peak came in 1985, when the Bacchus grape vine accounted for 3.6% of all vines planted in Germany. Since when plantings have fallen back to just 1.6%.
In the 1970s it also took a trip across the North Sea.
Early ripening made it an obvious choice for a new wave of English vineyards being planted at that time. Starting in southern England it has since became popular throughout the UK.
A survey by WineGB in 2023 showed that Bacchus grapes account for about 8% of English vines. At 298 hectares it is the fourth most popular variety, sitting behind Chardonnay, Pinot Noir, and Pinot Meunier.
Read the WineGB Industry Report 2022-2023
In England, the popularity of Bacchus wines is on the rise.
The Wine
Brits enjoy aromatic varieties, Sauvignon Blanc and Pinot Grigio are our 'go-to' white wine varieties. It's unsurprising then, with similarities to Sauvignon, that Bacchus has found an enthusiastic audience. Most English winemakers lean towards it as their most popular still white wine, and you'll find local examples in many independent wine merchants and farm shops.
The grape is firmly set in UK vineyards with many winemakers excited by its unending possibilities.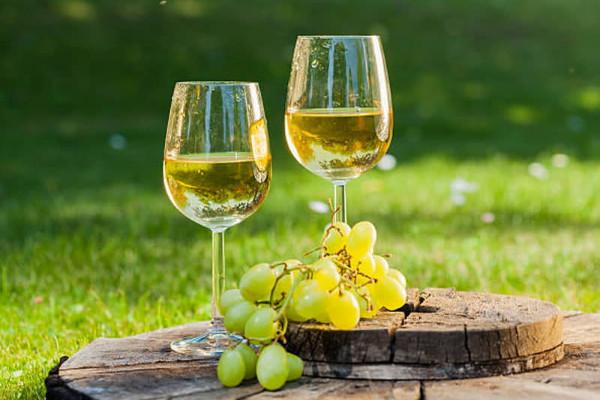 Glasses of wine
What does Bacchus taste like?
In England's cooler climate, still white wines made with Bacchus thrill. They delight the palate with English hedgerow fruit, elderflower, and youthful acidity.
In warmer areas the fruit tends to the tropical, with peaches and passion fruit making an appearance. Without due care this exuberance can over-power.
Mainly made with stainless steel, English Bacchus wine is refreshing and tangy. That said, it would be unlike any winemaker I know to sit on their barrels. Many English winemakers are experimenting with the use of oak, or clay vessels, to ferment or age their wines.
(Those winemakers who use oak will certainly use it sparingly. The vanilla notes that come from oak, think white Burgundy, would be detrimental to its hallmark freshness. Old oak will be used to combat this.)
English Sparkling Wine is also no shrinking violet for Bacchus. Freshness with typical 'English acidity' enable some fine examples to find their place in the market.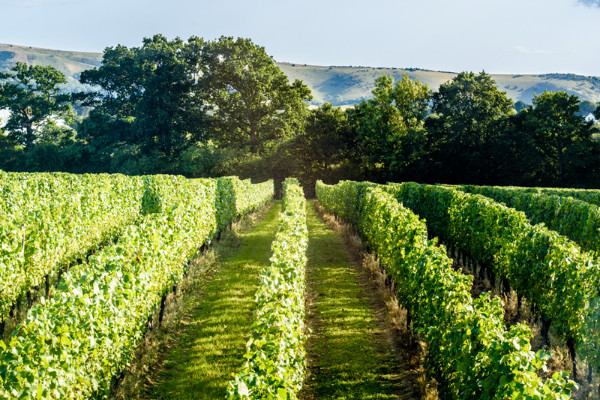 Vines growing in England
What food pairs with Bacchus?
As a modern wine its ability to match modern dishes is notable. The aromatic notes and high acidity pair well with Thai green curry, these attributes make it a perfect partner to Szechuan stir-fries too.
A more traditional pairing would be fresh seafood, or spring vegetables.
As an apéritif (still or sparkling) it's in its element accompanying canapés.
As a wine with a little bottle age, it becomes more gastronomic. Try it with smoked trout, aubergine moussaka, or an English goat's cheese.
Is Bacchus Wine Good?
In the humble opinion of this writer, a lightly chilled Bacchus English wine always 'hits the spot'.
Let's raise a glass to that!