On Friday 7 July 2023 a collection of English winemakers gathered for lunch at The Drapers Hall in central London. The lunch was in celebration of the WineGB Awards 2023.
The annual awards showcase wines from across England, one of the most dynamic wine making regions in the world. The judging took place over two days in June in the beautiful surroundings of Exton Park, Hampshire. A highly respected team, co-chaired by Susie Barrie MW and wine legend Oz Clarke OBE, blind-tasted 346 entries.
This year's competition attracted a record number of producers, who entered wines from all over the country. It included many first time entrants alongside regular competitors.
Sandridge Barton Winners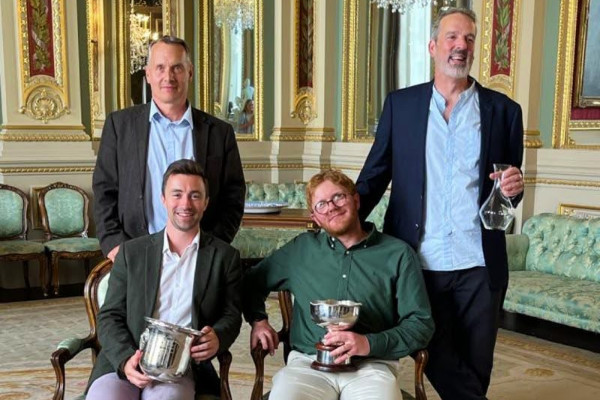 Duncan Schwab and the Team from Sandridge Barton
The biggest honour went to the team at Sandridge Barton, the new home of Sharpham Wine. Their Sandridge Barton Pinot Noir 2020 was awarded The Wine Guild Trophy for Top Still Wine 2023.
2020 was a busy year for headwinemaker Duncan Schwab and his team. After almost forty years they left behind their old winery on the Sharpham Estate, and moved to a new winery on the opposite bank of the river Dart.
Despite the upheaval the dedication and professionalism of the team ensured they continued to produce award winning wines. This was the first year wines bearing the new Sandridge Barton name were entered into the competition. The early success promises much for the future.
The Sandridge Barton Pinot Noir 2020 also won Best Still Red Pinot Noir, and Best Regional Wine from the west region.
In addition, the team won silver medals for their Blanc de Noirs 2020, Classic Cuvée 2020, Pinot Rosé 2022, and Pinot Gris 2022.
Dart Valley Reserve 2022 and Bacchus 'Stop Ferment' 2022 both won bronze medals.
Other Winners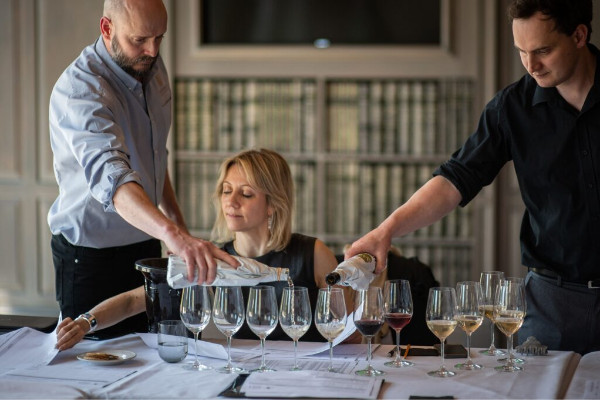 Judging at WineGB Awards 2023
Congratulations to all the other award winners.
Gold medals were awarded to Langham Wine Estate for their Blanc de Blancs NV and Corallian Classic Cuvée NV.
They also won silver for Culver Classic Cuvée NV and Rosé NV.
Calancombe Estate in Devon won silver medals for their Bacchus 2022 and Pinot Gris 2022.
Lyme Bay Winery won silver medals for their Pinot Noir 2021 and Bacchus 2021. Their Chardonnay 2021 was awarded Bronze.
Wickhams are proud promoters and supporters of English Wine, so it is always a pleasure to see producers we work with rewarded for their effort.
The competition is organised by WineGB for their members. Some of the producers we work with choose not to be members of WineGB.