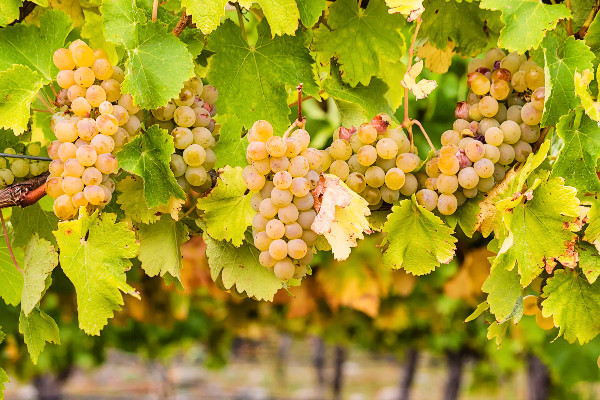 Chardonnay grapes growing in Chablis
"I don't like Chardonnay". It's a sentiment I hear expressed often. What a shame that some dismiss this gem after drinking a bad glass some years ago. Over-oaked Aussie Chardonnay of yesteryear has much to answer for.
Set aside those preconceptions, Chardonnay is as illustrious as it is versatile. It has earned its place in the pantheon of iconic wine grapes. Its history is rich, its adaptability remarkable, and its influence on the wine world profound.
Where does Chardonnay come from?
While its exact birthplace remains uncertain, it's likely origin is the Mâconnais village of Chardonnay. The name derives from the Latin cardonnacum, translated as thistle (possibly because they grew in abundance around the village).
In common with Gamay, Aligoté and Melon de Bourgogne, Chardonnay is one of the many scions of the noble Pinot Noir and highly promiscuous Gouais Blanc.
In the Beginning there was Burgundy
Burgundy is Chardonnay's spiritual home. The French region, famous for its varied terroir, was instrumental in shaping Chardonnay's reputation.
From north to south the grape expresses itself in a myriad of ways; lean and mineral in Chablis; rich, buttery, and age-worthy in Côte de Beaune; ripe and forthright in Mâconnais.
It's a range that ensured Chardonnay dominated white wine production in the region.
Early in Burgundy's ascent as the premier wine making region, Cistercian monks identified vineyard plots which consistently produced higher quality grapes. These became known as "climats" and ever since producers in Burgundy have focussed on these single-vineyard expressions.
Climats showcase Chardonnay's superpower, it's amazing ability to reflect individual terroir.
For Burgundy wines the site of a vineyard is often more important than the variety of grape used. Village names like Puligny-Montrachet, Mersault, and Chablis are bywords for quality, yet, many do not realise these are all 100% Chardonnay wines.
Global Dominance: Chardonnay vs. the world
Chardonnay's journey to global dominance can be attributed to its adaptability. That terroir expressing superpower. Some grapes are finicky about climate and soil, Chardonnay is not. It is grown in a wide range of climates, from cool to warm, and always has potential for quality.
In the mid-20th century Californian winemakers started planting Chardonnay vines. Just as in Burgundy, the state's diverse microclimates allowed winemakers to experiment with different styles. The grape thrived. In Napa you find creamy, supple, tropical fruit forward wines. The cooler climate of Sonoma County provides cleaner flavours of apples and pears.
In 1976, Steven Spurrier's famous "Judgment of Paris" successfully pitched a Californian Chardonnay against Burgundian counterparts. This created quite a stir and marked the beginning of Chardonnay's journey to global dominance.
At the same time, Australia embraced Chardonnay, notably in the Margaret River and Yarra Valley. Adaptability to both cool and warm climates made it a natural choice for enterprising Aussie winemakers. They produced Chardonnays that ranged from the elegant, mineral-driven styles reminiscent of Burgundy to opulent, ripe fruit-driven wines.
In the nineties Australian winemakers spotted a burgeoning fashion for oaked Chardonnay. To fulfil the demand, cost conscious winemakers used wooden staves rather than oak barrels to add an oaky profile. The resulting cheap Aussie Chardonnay flooded the market and enervated a generations thirst for antipodean Chardonnay. Thankfully, Australian Chardonnay is on the rise once more.
Other regions saw Chardonnay's potential too.
It has found success in New Zealand, Chile, South Africa, to name a few. Even England is getting in on the act, with excellent examples coming from the South-East.
Adaptability, coupled with consumer demand for the familiar, ensures that Chardonnay sells. It is not the most planted variety in the world (that honour goes to the Spanish grape Aíren). It is, however, the most widespread grape variety. Chardonnay is planted in more wine growing regions than any other grape.
Cool or Hot, What does Chardonnay taste like?
Chardonnay's flavour profile is diverse. It varies significantly depending on the climate in which it is grown.
In cooler climates, think Chablis or parts of California's Sonoma Coast, Chardonnay tends to produce wines with higher acidity, citrus, green apple, and mineral notes. These wines are often described as crisp, refreshing, and vibrant.
Conversely, in warmer climates, like California's Napa Valley or Australia's Barossa Valley, Chardonnay tends to yield wines with riper flavours of tropical fruits, melon, and peach. These wines often have a richer, fuller-bodied texture with lower acidity and may undergo malolactic fermentation, which imparts a creamy, buttery character.
Aging: French vs. American Oak
A crucial aspect of Chardonnay's flavour profile is how it is aged. A winemaker may decide to age their wine in barrels, more specifically they may choose French or American oak. The choice can dramatically influence both the taste and texture.
French Oak
Chardonnay aged in French oak barrels tends to be more subtle. French oak imparts flavours of vanilla, toast, and spice. The oak integrates seamlessly with the wine, allowing the fruit and terroir to shine through. This style is typical in Burgundy, where the focus is on elegance and complexity.
American Oak
Chardonnay aged in American oak tends to have more pronounced oak flavours, such as coconut, dill, and sweet spices. The texture may be creamier, and the oak influence is more noticeable. This style is popular in California and parts of Australia, where the goal is to create richer, more opulent wines.
The Best Examples of Chardonnay
The quest for the best Chardonnay leads wine enthusiasts to different corners of the world, exceptional examples can be found all over. Here are some notable regions and producers known for their outstanding Chardonnays:
Burgundy, France
Domaine de la Romanée-Conti is probably the most highly sought after Burgundy producer. Their wines sell for upwards of £5000 per bottle.
More affordable but well worth seeking out are producers such as Samuel Billaud in Chablis or one of the many branches of the Morey family in the premier cru vineyards on the Côte de Beaune.
California, USA
Producers like Kistler, Peter Michael, and Aubert are renowned for their high-quality Chardonnays from California. These wineries often source fruit from cool-climate regions, showcasing the state's diverse terroir.
Margaret River, Australia
Leeuwin Estate and Vasse Felix produce exceptional Chardonnays in Margaret River. The maritime influence and moderate climate contribute to wines with elegance and complexity.
Essex, England
New to the world of Chardonnay, England's climate and terroir is similar to that found in Chablis. Producers such as Danbury Ridge are crafting excellent examples. Lyme Bay have a single vineyard expression from Crow's Lane Vineyard in the Crouch Valley which showcases everything great about English still Chardonnay.
Conclusion
From its origins in Burgundy, Chardonnay has become the most widespread grape variety in the world. Its adaptability produces wines that range from crisp and mineral to rich and opulent. The choice of aging in oak, whether French or American, further shapes its flavour profile.
While Chardonnay's reputation was established in Burgundy, it has found success and acclaim across the globe. Notable Chardonnays can be found in California, Australia, England, and beyond. Chardonnay's enduring popularity is a testament to its versatility and the pleasure it brings to wine lovers worldwide.