Wine and horseracing have always gone hand in glove. The archetypal image is the big win celebration and a magnum of Champagne showering jockey and owners. Associations of high society, refinement and luxury are hard to avoid. The link between wine and horse racing is a combination of geography, tradition, and shared cultural values.
At Wickhams we love a day at the races, which is why we are proud to be sponsoring Jack Tudor.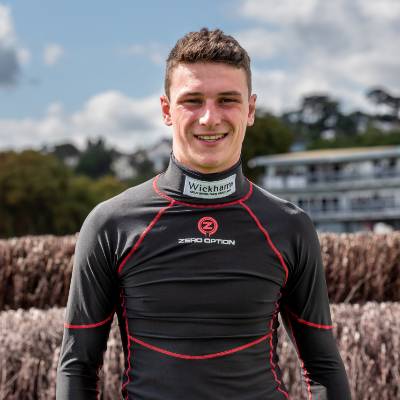 Jack Tudor and the Rise of Kitty's Light
In the world of horse racing, few stories capture the imagination quite like that of Tudor and his partnership with Kitty's Light. A tale of perseverance, determination, and a deep bond between human and animal, it is one that has captivated fans of the sport and one which we're pleased to be a small part of.
Born in Wales in 2001, Tudor began riding horses at a young age. His love of the sport was fostered by his grandfather, who owned racehorses and would take him to watch them run. It wasn't long before Tudor was competing in point-to-point races.
Since the age of 16, Tudor has been riding in National Hunt racing under the tutelage of trainer and former jockey Christian Williams. He came to prominence when he "won" the virtual Grand National during the covid pandemic riding Potters Corner. (Although in reality he was sitting watching the computer generated race with his parents in Merthyr Mawr).
Tudor first rode Kitty's Light in August 2020, placing second at Sedgefield. Kitty's Light showed promise in his early races but struggled with consistency. He tended to make unforced mistakes and lose his rhythm. Forming a close bond rider and horse worked together. Tudor spent countless hours getting to know Kitty's quirks and idiosyncrasies, developing a deep understanding of how to get the best out of him.
The hard work started to pay off when Kitty's Light placed second at the Coral Scottish Grand National last April. But a big-race victory has felt just out of reach ever since.
This afternoon Kitty's Light and Tudor finally secured that big-race victory with a determined display in the Vertem Eider Handicap Chase at Newcastle. Kitty's Light was far from convincing at a number of fences but Tudor worked hard in the saddle to overcome the challenges throughout the four-one-mile-furlong contest.
We were absolutely delighted to crack open a bottle of Huxbear Classic Sparkling 2018 to toast a victory when Tudor and Kitty's Light passed the post first.
It looks likely that Kitty's Light will enter either the Scottish National or the bet365 Gold Cup next. The decision will be up to the owning syndicate, R J Bedford & All Star Sports Racing, and we hope Tudor will be once again in the saddle and heading for victory. We've got another bottle on ice ready for the celebration.