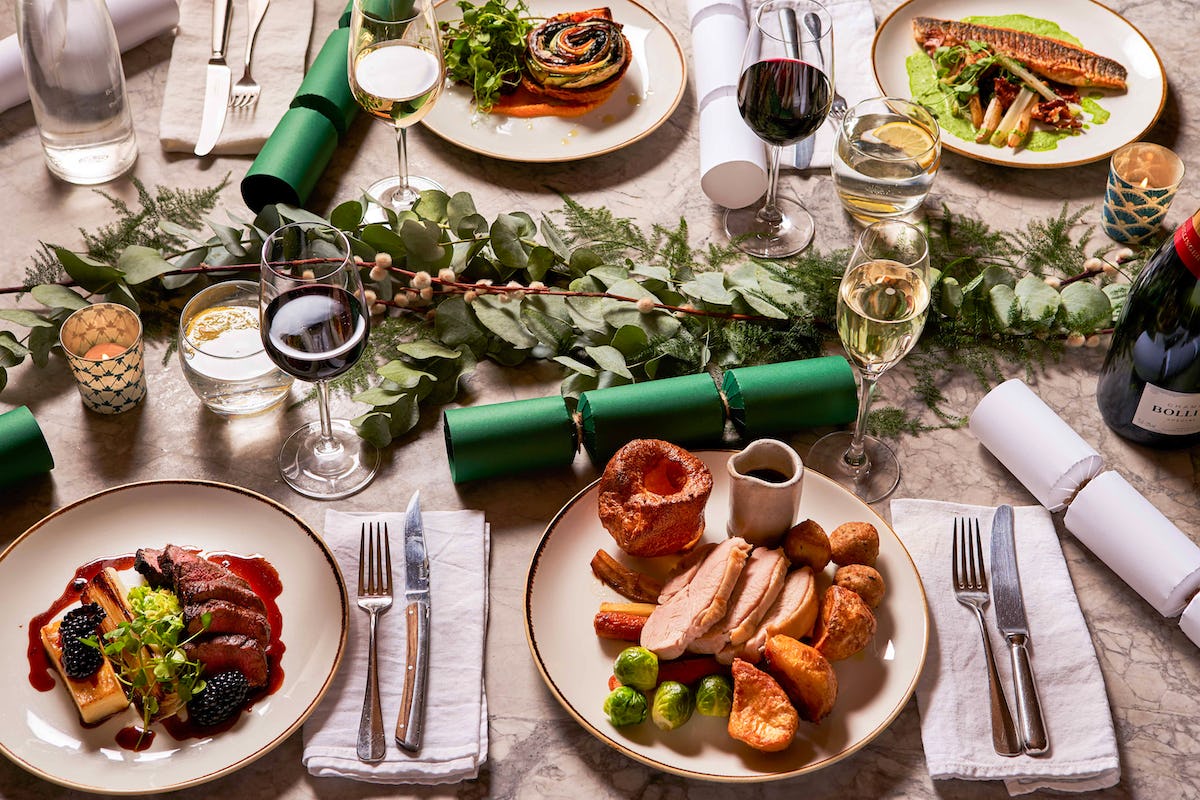 What are the best wines to pair with Christmas lunch? The answer to that question is always: the wine you like.
Wine should enhance a meal and bring enjoyment. There are, though, some tried and tested rules that can help you find that perfect bottle:
1. The intensity of the wine should match the intensity of the food
Big, bold foods should be paired with big bold wines, whilst delicate foods should be paired with delicate wines. It's why we often pair delicate white wine with fish and brash red wine with steak.
2. Pair fruity wines with fruity dishes
Cranberry with turkey? Pork with apple? Combinations we take for granted give us clues of how to pair wines. An appley Chablis could be the perfect partner for pork, whilst you might consider a fruity Beaujolais with Turkey.
3. Choose to compliment or contrast
The wine you choose can be the perfect complement – lobster and Californian Chardonnay make ideal bedfellows because are both creamy, buttery, and unctuous, but the acidity in a German Riesling would offer a wonderful contrast.
4. Sweeter than sweet
To prevent dessert wine from tasting a little flat, the wine must be sweeter than the dessert itself. Often the best option is to go for a not-too-sweet dessert such as a fruit tart. Christmas pudding doesn't pull its punches on the sweetness front, so it can be a challenge, and it might be worth calling on the fortified big guns.
With these basic rules in mind, here are my top suggestions for Christmas lunch.
To Start
The pop of a Champagne cork let's everyone know that the party has started, and the bubbles get the mouth-watering in anticipation of the delights to come. The crisp acidity of Champagne pairs well with most canapés such as smoked salmon bilinis or tomato bruschetta. Browse our full range of Champagne for inspiration.
Alternatives include French Crémant, Alta Langa from Italy or English Sparkling wine all of which are made using the same method as Champagne and sometimes even the same grapes.
Now for the Fish
Once guests are called to the table a zippy New Zealand Sauvignon Blanc makes an excellent choice for the fish course. Its acidity cuts through any fattiness, and its aromatic delicacy compliments rather than overpowers.
Sancerre is the original Sauvignon Blanc and offers a more subtle interpretation, often with herbs and grassy notes alongside the more familiar flavours of gooseberry or elderflower. South Africa is also making some notable Sauvignon Blanc and maybe be a nice alternative for those who want to be a little less obvious.
Discover our extensive range of Sauvignon Blanc from around the world.
Turkey, The Main Event
The main course offers a maelstrom of competing flavours – it's not just about finding something to compliment the turkey, but about finding something that can sit happily alongside pigs in blankets, bread sauce, roast potatoes, sprouts, stuffing, and the rest. Be bold.
For me, an aged claret is the order of the day. A classed growth will gladden the heart of any wine lover – though as host you'll need deep pockets. The second or third wine from a well-known Chateau is a great way to get bang for your buck. Find the claret for you from our selection of Bordeaux wines.
Wines made in Stellenbosch, South Africa, with the same grapes - Cabernet Sauvignon, Merlot and Syrah - can be excellent alternatives which offer outstanding value. Click here to explore these Stellenbosch beauties.
If you prefer white, Burgundian Chardonnay with a kiss of oak has the weight and body to carry the show. There are of course those who protest "anything but Chardonnay", but they're just not drinking the right bottles! We have a broad range of white Brugundy wines to accompany Christmas lunch.
Looking beyond France, English winemakers are producing superb oaked Chardonnay and the Aussies have dialled back the oak in recent years so are well worth giving a second chance this Christmas Day. Take a look at our full range of Chardonnay wines.
A Sweet Crescendo
As the feast reaches its sweet crescendo pair Christmas pudding with a classic Sauternes. Alternatively, Tokaji from Hungary has been described as the King of wines and the wine of Kings, its a dessert with with the right balance of acidity and sweetness and a lovely undercurrent of marmalade – ensure you get enough sweetness by looking on the label for wine with 5 or more "puttonyos". Click here for our selection of dessert wines.
Of course, if only port will do it for you at Christmas, we have a fine selection of Port including vintage, LBV, tawny and white to choose from.
Done For You
Finally, if you don't want to go out searching for the perfect bottles, I've curated a selection again this year with everything you need to pair with Christmas lunch, The Classic Christmas Day Wine Selection includes Champagne, Sancerre, Chardonnay, two clarets and a bottle of Sauternes.
Don't foget that all our wines come with a satisfaction guarantee and free delivery on orders over £40.
Merry Christmas!